Hi,
I'm trying out Invoice plane for our company in belgium , and we are really falling in love with it!
I have a question about customizing the Template for invoices and Qoutes. I've the basic scheme of how i want it already done but i have a problem getting something to work.
What we want is that in the PDF and web preview, all items are ordered by Product category ( wich is possible in the products option, verry nicely done to include that in IP

). And after each category ends there is a subtotal per categorie. Its not that big of a deal if that ain't possible.
I've the template as good as ready but now all items are just listed underneath each other. The thing i'm stuck on is ordering them per category and making the subtotal. also if items are not in a category they can be listed in an "extra" categorie. Also for estetics would it be nice if there aren't items of a certain categorie the categorie 'header' / 'subtotal' calculation (wich will be 0) will not be shown.
I'ill include a image below to give you guys an idea how we want it.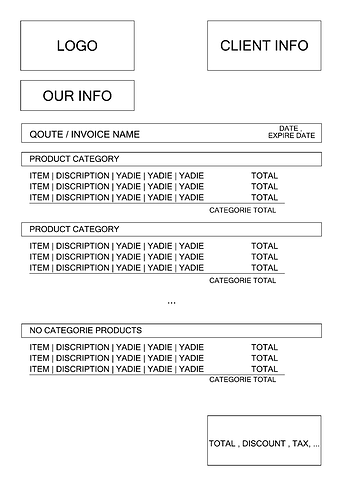 Hope you guys can help me out, Because we really are commited to use Invoiceplane.