Is there a way to batch download all invoices within Invoiceplane to individual PDFs?
No, sorry. But this feature was already requested.
I'm looking to do this as well. Is there any updates or work arounds?
click on view invoice then on the right side click on option then click on download then on the on the online acroba the menu for download is activate by the mouse otherwise is in hiding is you put your mouse cusor to the top the menu bar will come up the you will be able to print download the download tab is an arrow outside down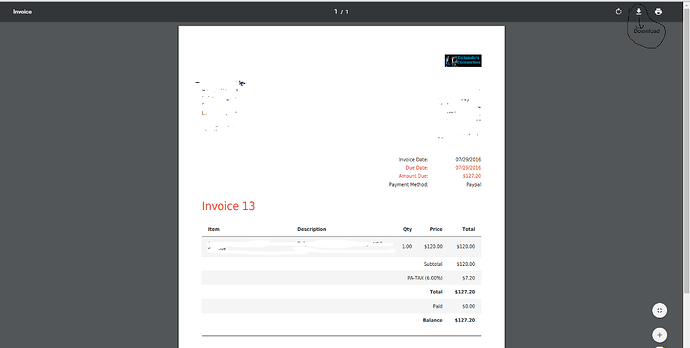 A workaround would be to manually enter the file structure. All invoices that were downloaded in the past are also saved to the uploads/archive folder.
Question, is this feature already build in now? I was also looking for this.
Just a kind reminder, if a batch download to pdf invoice option has been build in. I have the latest invoiceplane version.
Thank you already for your awesome work.
Any news yet to have this feature build in? As you already can select a time frame in the report options. Only would be nice that you will have the option to get a zip file with all the invoices from your select time frame as well.
More or less

But maybe need to be adaptable to have a new menu "export" ? Need to be discussed
Maybe have an extra box in the clients window to select method of delivery (email or pdf batch). Also if pdf batch is selected to have 'date from' and 'date to' options.
Just a thought…but thanks for great work anyway

I think we should not change the method of delivry. Maybe add a new tab/menu in the client page with a from/to date picker, maybe add a new complete menu where you choose your client, the from/to, the state (send/paid/overdue) … It has to be discussed
Well, it seems that exporting invoices in various formats is a rather large feature but wanted by many users.
Please add your ideas to this topic in a short, readable form.