Hello,
I have a problem with the InvoicePlane 1.6.0 Update and hope you can help me out:
I am running on a Debian 12 Server with kernel 6.1.0-12-amd64,
apache2 6.1.0-12-amd64 and php 8.1.23 (fastCGI).
Both of my InvoicePlane instances are currently running on version 1.5.11.
I followed the instructions given here, but whenever I try to finish the setup/update process, I get stuck on the first screen (the language selection).
After I've chosen my language, I click on and nothing happens, the language selection page just loads again, no matter how often I click on the button.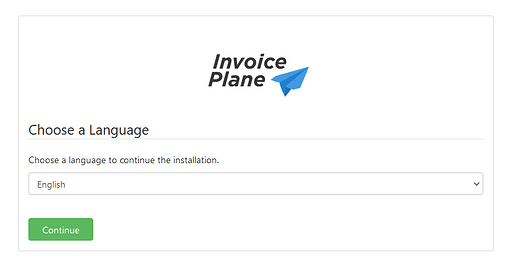 Does anyone know how I can get around this?
My ipconfig.php
# <?php exit('No direct script access allowed'); ?>
# InvoicePlane Configuration File

### START HERE
# Set your URL without trailing slash here, e.g. http://your-domain.com
# If you use a subdomain, use http://subdomain.your-domain.com
# If you use a subfolder, use http://your-domain.com/subfolder
IP_URL=PRIVATE

# Having problems? Enable debug by changing the value to 'true' to enable advanced logging
ENABLE_DEBUG=false

# Set this setting to 'true' if you want to disable the setup for security purposes
DISABLE_SETUP=false

# To remove index.php from the URL, set this setting to 'true'.
# Please notice the additional instructions in the htaccess file!
REMOVE_INDEXPHP=false

# These database settings are set during the initial setup
DB_HOSTNAME=localhost
DB_USERNAME=PRIVATE
DB_PASSWORD=PRIVATE
DB_DATABASE=ivplane
DB_PORT=3306

# If you want to be logged out after closing your browser window, set this setting to 0 (ZERO).
# The number represents the amount of minutes after that IP will automatically log out users,
# the default is 10 days.
SESS_EXPIRATION=864000

# Enable the deletion of invoices
ENABLE_INVOICE_DELETION=false

# Disable the read-only mode for invoices
DISABLE_READ_ONLY=false

##
## DO NOT CHANGE ANY CONFIGURATION VALUES BELOW THIS LINE!
## =======================================================
##

# This key is automatically set after the first setup. Do not change it manually!
ENCRYPTION_KEY=PRIVATE
ENCRYPTION_CIPHER=AES-256

# Set to true after the initial setup
SETUP_COMPLETED=true


My apache2 vhost:
<VirtualHost *:80>
        ServerName domain.com
        ServerAlias domain.com

        Redirect / https://domain.com/

        ErrorLog /home/user/log/apache2/domain_com.error.log
        CustomLog /home/user/log/apache2/domain_com.access.log common
</VirtualHost>

<VirtualHost *:443>
        ServerName domain.com
        ServerAlias domain.com


        DocumentRoot /home/user/www/htdocs/ivplane
        <Directory /home/user/www/htdocs/ivplane>
                Options -Indexes +FollowSymLinks +MultiViews
                AllowOverride All
                Require all granted
        </Directory>

        <FilesMatch \.php$>
                SetHandler "proxy:unix:/var/run/php/php8.1-fpm.sock|fcgi://localhost/"
        </FilesMatch>

        SSLEngine On
        SSLCertificateFile /etc/letsencrypt/live/domain.com/fullchain.pem
        SSLCertificateKeyFile /etc/letsencrypt/live/domain.com/privkey.pem

        ErrorLog /home/user/log/apache2/domain_com.ssl-error.log
        CustomLog /home/user/log/apache2/domain_com.ssl-access.log common

        Include /etc/letsencrypt/options-ssl-apache.conf
</VirtualHost>