the pdf can't show the chinese word, please help.
This is a known issue (see here and here) but we need the error message displayed on screen to help you to solve the problem.
Thanks for your reply.
i am using the version 1.5.9. when i try to generate the PDF from quotes with chinese word, it will show the error symbol.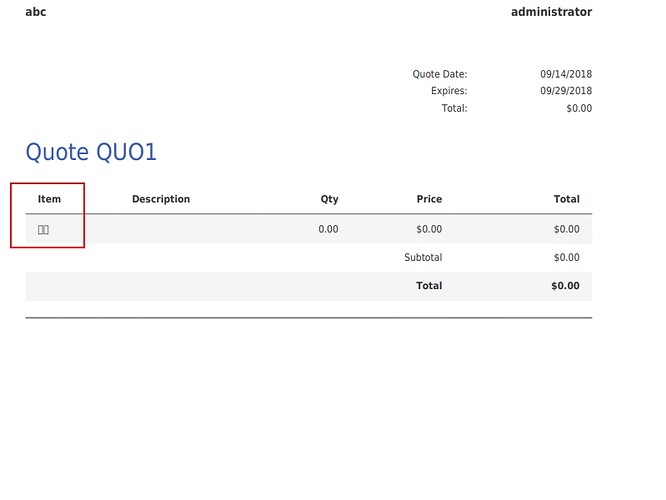 i was try in your web site demo system, it also have same problem.
Can you copy & paste the Chinese text in a message? Paste them in a separate line.
OK , here is the chinese text in PDF
你好
Thanks, do you see the characters on screen? in the web page?
For instance, Chrome displays them correctly

but Firefox does not

That's interesting: when using Chrome to visit the IP site, the Chinese characters are shown on screen, but also the pdf generated displays them.
Accordingly, this problem is not caused by IP, and that the cause is in the browser and its inability to display these Chinese characters.
Until we find how to solve the browser problem, you should use Chrome, or any browser that displays those characters, to connect to IP.
These are the current recommendations to display Chinese characters on a browser and on the generated PDF.
Web browser:
Try several browsers and use the one(s) displaying the characters. I have tested Firefox on GNU/Linux and it does not display them, but Chrome does display work. In both cases, I wasn't using the latest release, so the problem with Firefox may be solved.
PDF file:
Follow the steps mentioned in the solution for Japanese characters:
Caution:
The font(s) used for the Chinese characters will be not embedded in the PDF file, and to render the characters the font(s) must be installed in the local computer. If you want to embed the font(s), read this post:
i am using chrome in your demo site and create a quote with chinese word.
but when i generate PDF, it also display error symbol.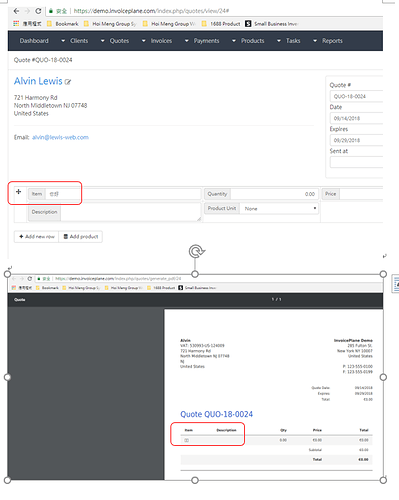 Sorry, I linked the wrong post, the correct one with the fix for the pdf is,
This fix will not work in the demo site because it is missing the extra font files and the change in the configuration. Thus, you will have to try it on your site.